A Truck Adventure
29 Oct 2019 - Jake Sherwood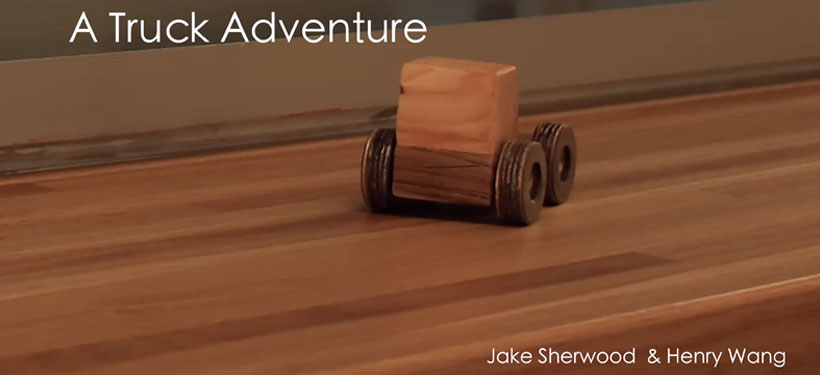 A Truck Adventure by Jake Sherwood & Henry Wang
Stop Motion Animation - A Truck Adventure
Our first Animation assignment was stop motion animation.
A fan of stop motion I was excited to try it out for myself.
Always impressed by the amount of work that went in to stop motion pieces, this project gave me a much greater appreciation… by ALOT. lol
Inspiration
Ever since my Make 5 (Trucks) - Intro2Fab Assignment, I had been toying with the idea of doing the stop motion assignment with my trucks. Fortunately my partner Henry was open to the idea and we decided to make it happen.
Henry and I planned to meet up over the weekend at school to do the shoot. We were instructed to use the application DragonFrame.
It seemed pretty cool, and would allow us to control the camera right from the application and enable us to take multiple shots at once all without having to worry about camera shake.
The only downside was it was a pretty expensive app which meant we'd have to use a production laptop at school to use it.
I initially envisioned it being set outside but I wasn't sure if we could take the production / school equipment outside.
No worries, it rained on our shoot day so we had to set it inside anyway.
Prior to shoot day, Henry and I both brainstormed story ideas.
We chatted over Slack about potential story lines and settled on one when we met on Sunday.
I wrote a basic dialoge which we finalized together.
We met at school early Sunday morning and began storyboarding out the scenes.
Doing the process of storyboarding really helped us get and idea of what we needed to do and what shots we need.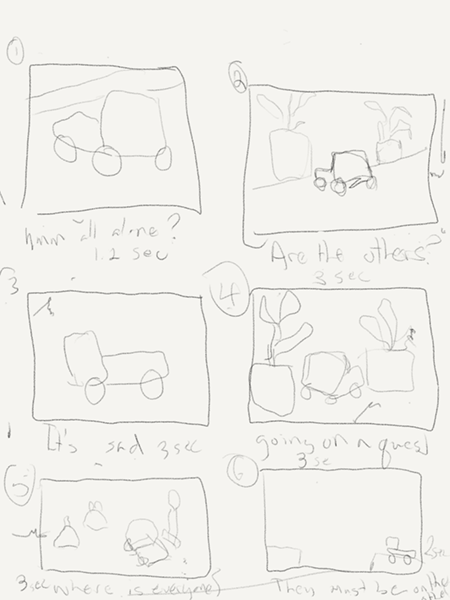 a truck adventure storyboards
It also helped us solidify where it would be set. We settled on the windowsill tables in the corridor. And it actually worked out really great, because "scouting the set" gave us the idea to do the jump scene, which wasn't originally in our script.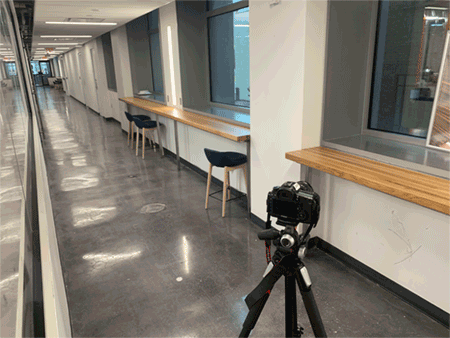 set scouting
After deciding to do the jump we had to make some slight changes to the script and storyboard. Afterwards we were ready to start shooting.
The DragonFrame app worked as expected. Only a few hiccups of getting ahead of ourselves in terms of timing matching our storyboards and meeting the length requirements of the assignment.
We went back and fixed a few of the timing mistakes, but eventually we were too far along and we just had to ad-lib a few extra scenes / seconds and adjust our story slightly after we completed shooting.
About 4.5 hours later we were done shooting… phew that was time consuming. Also the jump scene was HARD… We divided up the jump images that needed to be retouched, and spent next few hours getting some quality time in with Photoshop… ugh.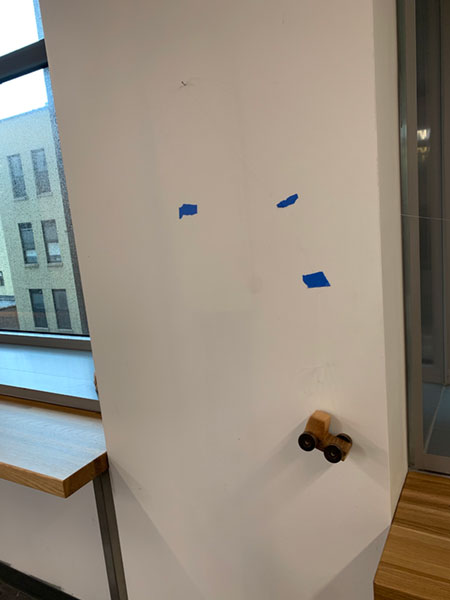 truck jumping with wire and tap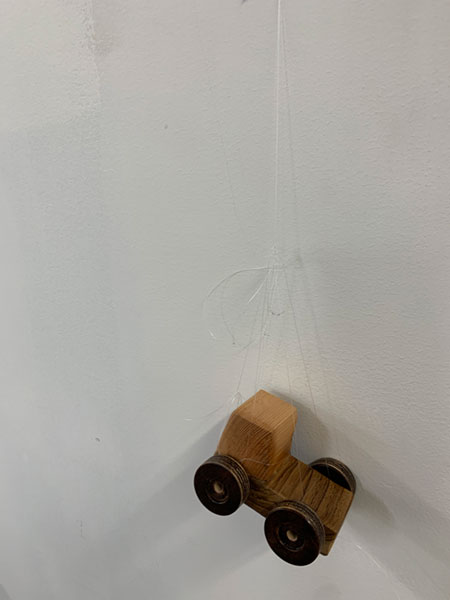 truck jumping with wire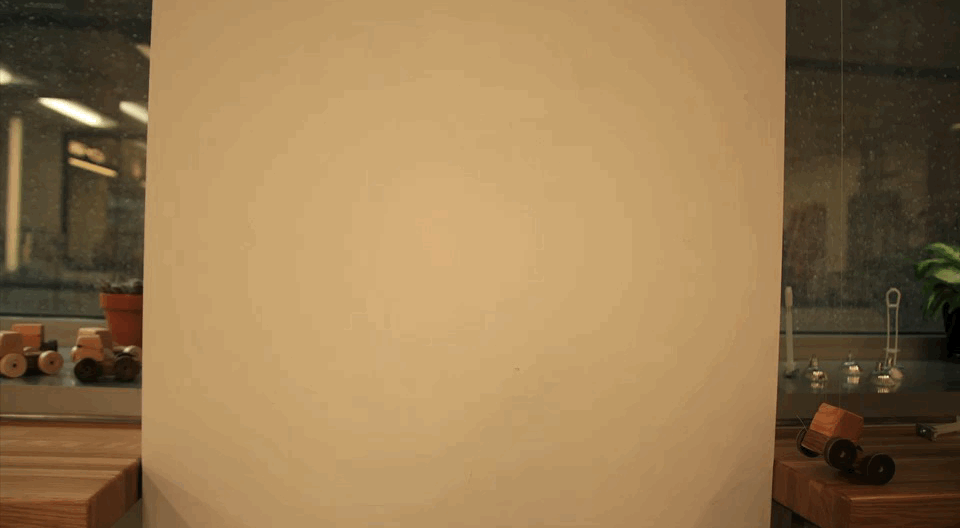 jump retouch images before and after
We met back at school the next day. The plan was to import our retouched frames using the import image sequence utility in DraganFrame, but we were having issues.
No matter how we tried to do it, it kept squashing the images and messing up the aspect ratio. Double confirming the raw images were correct I asked Gabe for some help. Unfortunately he couldn't figure it out either and it seemed like we had found a software bug.
Time to import 750 single image frames into AfterEffects… ugh.
Fortunately, I had some previous experience with AE and I was able to get things imported and stitched back together.
The last few things to sort out was fixing our dialog audio, we still needed to account for the timing mistakes we made durring shooting, and to figure out how and if we were going to be able to add mouths for our dialog audio.
Henry was going to go home and redo the dialog audio and I was going to look into adding mouths to the animation.
I thought about drawing my own mouths but I figured I had enough to do. So I found these great mouths available for free creative commons use by Freepik.com
The method Gabe reviewed in class seemed cool but super laborious.
I thought there must be another way.
I started searching for AI's for lip syncing animations and stumbled onto the Rhubarb Lip Sync utility on GitHub.
Supposedly it would allow me to input an audio file and export a lip sync'd 2D animation. Perfect!
I followed the docs and got it configured as described but I could not get it to work. After a few attempts I was bummed but needed to move on.
The search continued.
Next I found this youtube video on how to set up a mouth rig for lip syncing AfterEffects.
It was relatively straight forward to get set up but still seemed pretty laborious.
I really didn't want to have to go frame by frame and match up phonetic shapes.
I finally stumbled upon this video on using Adobe Animate for lip syncing.
Eureka! This was exactly what I wanted.
I had never used Animate before and the above link left out a lot of how to set up the file structure. But I had a good feeling this would work.
Once I had my Animate file set up properly, I just matched my mouth images to the phonetic sounds in Animate, targeted my desired audio track and hit sync.
The application matched it all up and rendered a great lip sync to our dialog.
Last we just had to import the .fla file from Animate into AE, match it up, and do a few additional minor tweaks, color, sound effects, title frames and we were done.
As time consuming as this was I really enjoyed the process. Henry was great to work with and I am really pleased with the final outcome.
A Truck Adventure by Jake Sherwood & Henry Wang
A Truck Adventure