Interactive Tech Irl
26 Sep 2019 - Jake Sherwood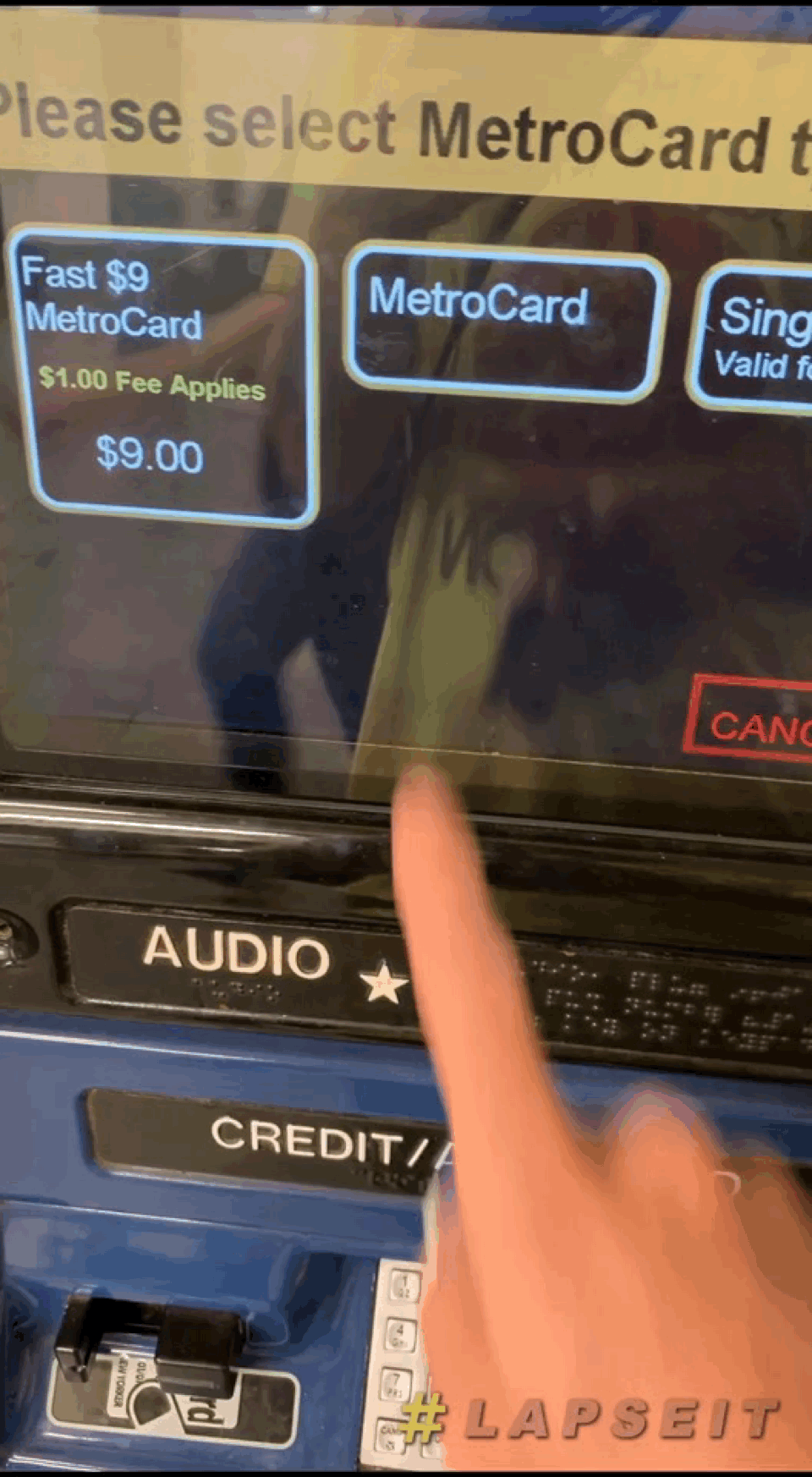 Interactive tech irl - metrocard kiosk fail
PCOMP WEEK 3 - Interactive Tech IRL
The pcomp assignment for this week was to find an example of interactive tech in real life and observe it.
We needed to detail people / users's expectations and results.
I decided to observe the MetroCard kiosk/ vending machines.
Fo a little history, MetroCards and these types of vending machines were first introduced in 1992. Tokens were phased out in 2003, and these are supposed to phase out in 2023. Probably a good plan… the tech is pretty aging.
Expectations:
Provide new or refilled metrocard
Observations
1)People spend 30 seconds to 2 minutes at the kiosk on average
2)Most people refill existing MetroCards
3)Most use credit cards as their preferred payment type
4)Estimated - at busy stations, single kiosks can service anywhere for 30 - 50+ patrons per hour 5)A lot of people had issues with the touch screens
6)People had issues with credit cards not reading
7)Often times the bill input would reject bills

Interaction Process
1)Touch screen to begin
2)Select language
3)Select operation - purchase card, refill card
3a)If refilling card - insert card 4)Select add time or add money
5)Select payment type - credit, debit, cash
5a)Insert credit/debit card - confirm billing zip
5b)Insert cash
6)confirm mount to add
7)Retrive new / refilled MetroCard

Pros
1)Easy Interface
2)Allows you to easily refill with credit card
3)Can be fast

Cons
1)Touch screen doesn't always work
2)Bill input doesn't always except bills
3)Credit card reader won't always register the magnetic strip. It really struggles with well used thicker cards.
4)Can be slow

MetroCard Kiosk personal interaction
On my own observed interaction ,I had problems with the touch screen and the credit card reader. I've also had many times in the past that I've missed a train trying to refill a card.
Most users observed, usually got in and out relatively quickly. But there were a few cases where some users spent minutes or longer trying to get things sorted.
As mentioned above the tech is old and aging. I think the transit system will benefit greatly when the MetroCard and these old style kiosks are phased out in 2023.

MetroCard Kiosk user interaction