P5js Sound Collaboration
20 Nov 2019 - Jake Sherwood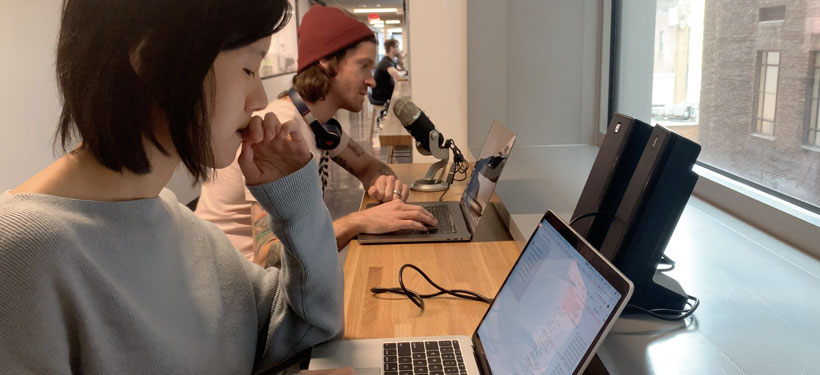 Exploring music collaboration with p5js
Exploring music collaboration with p5js
The assignment was to manipulate sound with p5js with a partner and present to the class.
I thought it would be cool to figure out a way to collaborate live with my partner for our presentation.
This meant I needed to figure out how to get 2 sketches to talk to each other.
Following Dan Shiffmans's tutorial here I was able to get a node.js server set up and have two instances of a p5 sketch talk to each other over a local network.
This allowed Na and I to collaboratively sample audio tracks and manipulate them in realtime.
I have a serve_sound.js file that acts as my node server.
It is listening from transmitions from one instance of the sketch and stores them to a local directory. It then notifies the other instance that there is a new sample available.
server_sound.js code:
The sketch_sound_new.js file controls the recording, playback and looping. We were able to run 2 instances of the same sketch on a local network and have them communicate via socket.io
sketch_sound_new.js:
Overall I had a lot of fun with this assignment. If had it to do over I would add a few more features and a way of manipulating the tracks individually instead of only the last one.