kinectron install
27 Sep 2020 - Jake Sherwood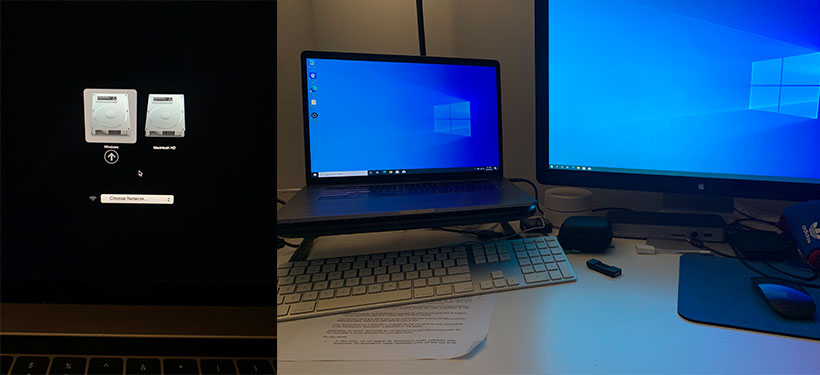 kinectron install
kinectron install
To be honest, I feel a little dirty.
For years I've done most anything and everything to avoid the Windows OS.
But this week I spent way more time than I'd like to admit with the OS.
The next few weeks in Bewah we're going to be working with the Kinectron javascript library… and it only works on Windows.
Determined to not have to go checkout a Windows laptop from the ER, I set out to get my Kinect 2 running on my mac
Things attempted to get Kinectron running on 2018 MBP (with dedicate GPU) on latest version of Mojave.
Attempted 3 OS environments
1) VMware - version 11 (latest on Mojave) doesn't support DirectX 11 graphics processing - required
2) Parrallels - version PD16 - supports DirectX 11+, but the driver fails / errors and cannot pass the SDK tests
3) Bootcamp on mac - this solution finally worked

VMware claimed DirectX 11 support for their latest version of Fusion but that required me to update to Catalina which was a no go for me.
Parrallels does support DirectX 11+ and appeared to work with Kinect. But eventually failed and there are many on the internet that had the same issue I was having with the driver error.
Bootcamp finally came through but it wasn't easy… or maybe it was.
When I finally got BC installed and all the required software downloaded (SDK & Kinectron lib), connecting the Kinect was having issues.
It just kept reloading over and over. Numerous threads on the internet reported this, so I began diving into the rabbit hole of suggested solutions.
1) Disable / re-enable audio settings
2) Configure PCI bust to not have energy save settings
3) Configure USB hubs to not have energy save settings
4) Adjust computer management
5) reinstall drivers
6) adjusting sound settings
and a few other things (mostly from this thread)
Nothing worked…
I decided as one last ditch effort… let's try the trusty "restart."
IT WORKED!!!?!
After restart Windows was properly registering my Kinect. I was able to go through the SDK tests and fire up Kinectron!
I tried backing out all my changes to pinpoint what the solution was. But after backing everything out it stil worked. Maybe the restart was the fix?
I still had a few issues with the skeleton and green screen modes. But maybe I was too close to the connect. More testing required…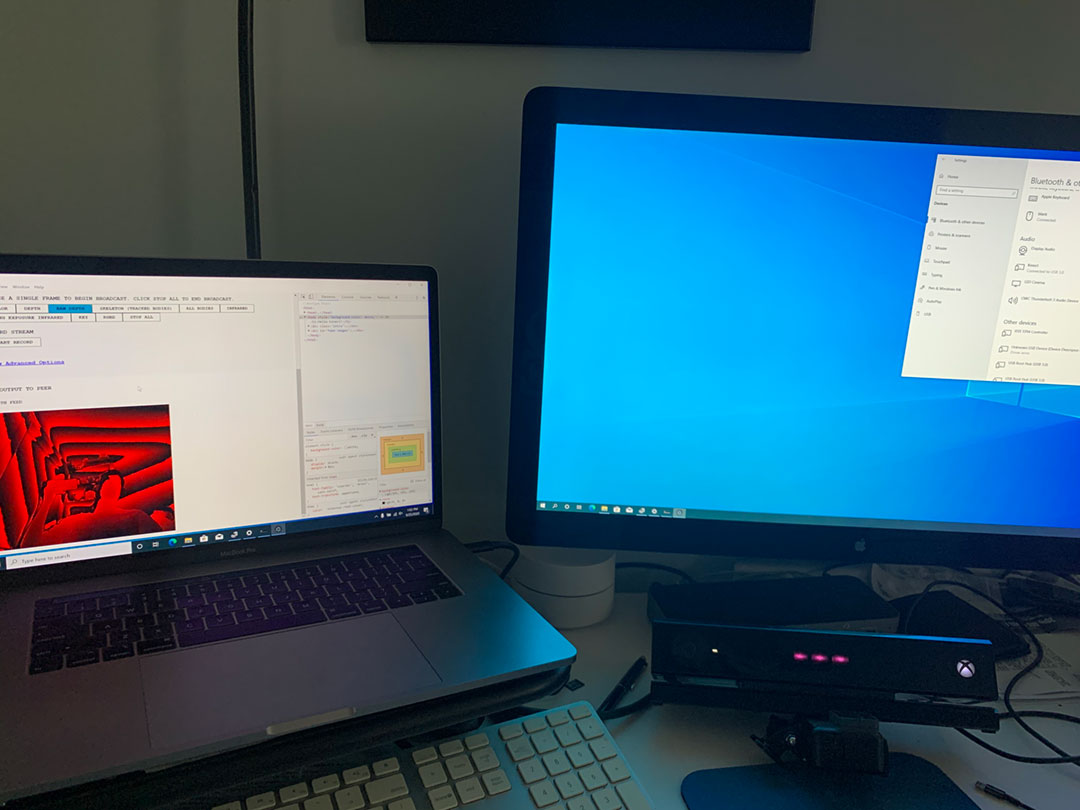 kinectron firedup
Looking forward to testing it out as we work through it in class… and I guess Windows isn't all that bad.
For extracredit I got bootcamp loaded on my wife's 2012 MBP on Catalina and attempted to get Kinectron going there. Same issue with the Kinect reloading over and over. Restart again fixed the problem. So I do think that was the solution for me.
I had additional issues with the setup here and didn't have time to work all the way through them. I never received the Firewall alert and didn't see Electron in the Firewall settings when I tired to allow after the fact.